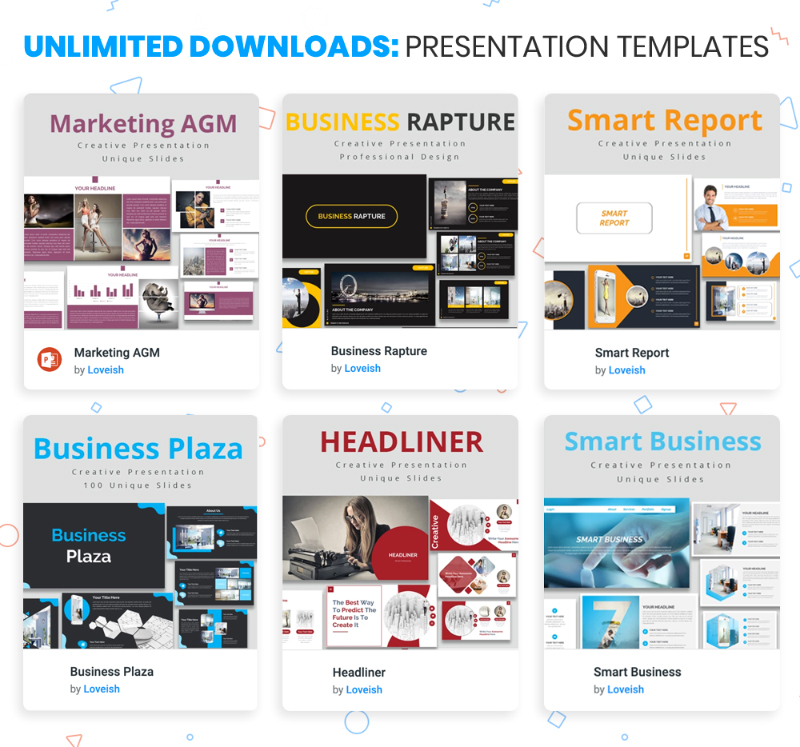 With the help of templates specially designed for presentations, you can always easy submit information about a product, service or adequately present this or that business project, statistical analysis or any other information. Moreover, you will always do it attractively, affordably, constructively, and, if necessary, creatively!
Today, thanks to a wide range of high-quality PowerPoint templates from a popular resource TemplateMonster, you can modify and create unique compositions that will delight your students, teachers, clients and business partners. These templates are ready-made slides for presentations. All colors, graphics and fonts are created by real professionals. It is enough just to choose the category you are interested in, as you will, many templates are available with a unique design solution.
Today I present to your attention another selection of the most popular PPT templates. So let's go…
Infographic Pack - Presentation Asset PowerPoint Template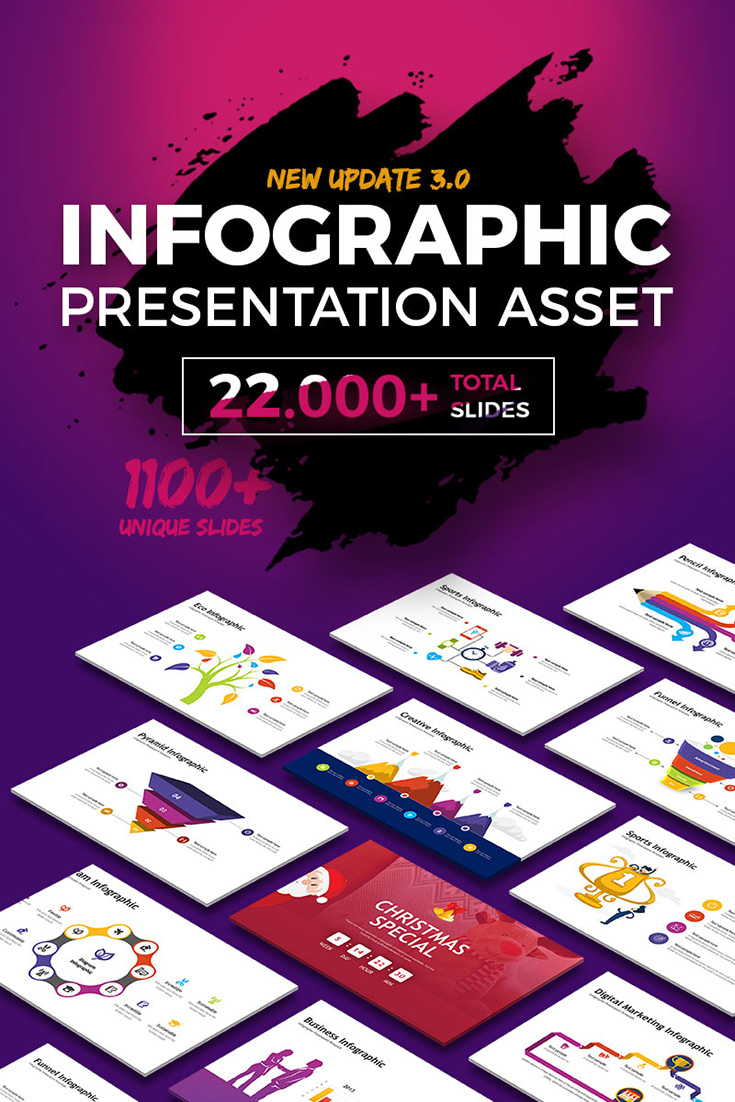 A whole arsenal of functionality will help to adjust the template for your goals:
all elements fully resizable;
Drag and Drop Placeholder;
various colour scheme, HTML file included;
master slide-layouts;
thousands of icons;
easy to use and customize;
data charts editables (Excel);
16:9 aspect ratio;
lifetime update & support etc.
The template is so voluminous and universal that it can be used in a number of other categories and topics.
Regardless of whether you want to win a group of customers in order to stimulate sales, invite investors or persuade the management of your team to go in a new direction, your presentation should be professional and focus on the result (your specific goal). In this case, a compelling presentation with the help of a business template comes to the rescue - Business Pack PowerPoint Template.
Business Pack PowerPoint Template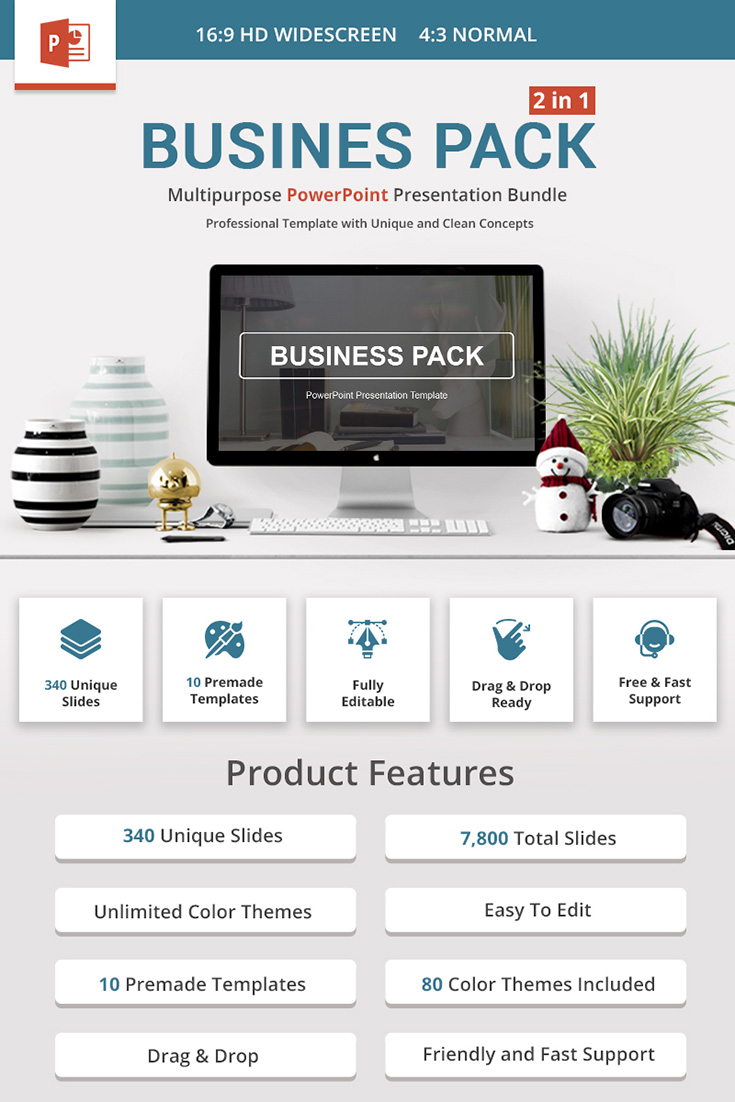 This is not just a template, it is a whole "package" of high-quality slides that are able to solve any informative and visual task.
As a result you get:
7,800 Slides;
80 Themes;
free fonts and icons;
fully editable content;
data charts and stage diagram infographics;
a lot of layouts options etc.
A PowerPoint presentation based on this template can cover almost all business areas: startups, investment, consulting, company profile, business plan, annual report, sales and marketing and much more.
Every - Minimal PowerPoint Template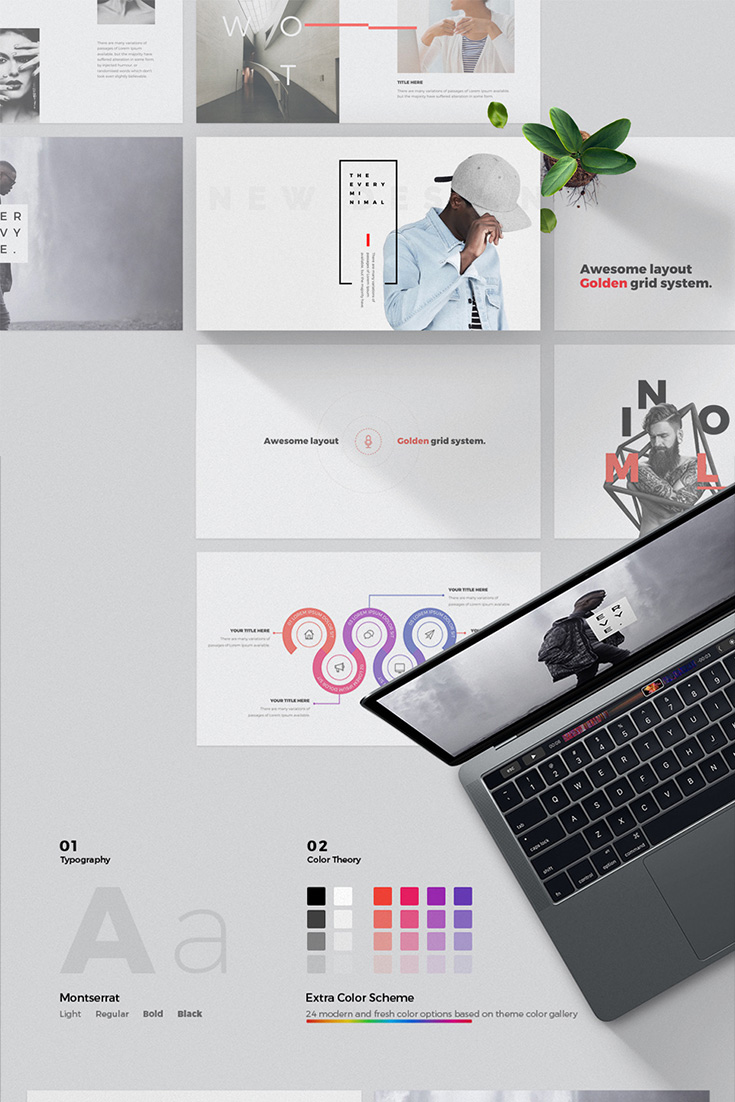 Whatever your presentation is about, an invariable condition and guarantee of success is a beautiful, visually understandable and maximally informative presentation. It will make an interesting business idea even more mega cool.
Making such an ideal presentation with the Every - Minimal PowerPoint Template is the best decision, because at your disposal you get:
80+ unique creative slides;
800+ vector icons;
16:9 slide size;
24 color versions;
50+ device mockup.pptx;
free fonts;
free updates.
Entorum - Business with flexible infographics PowerPoint Template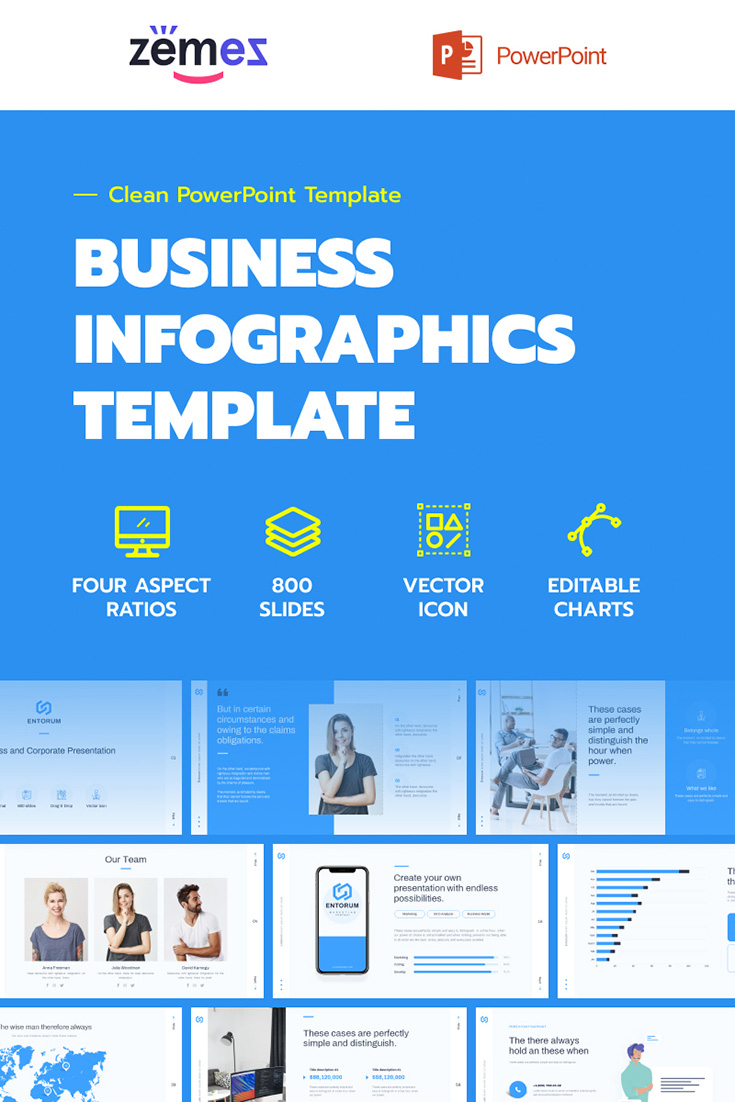 With Entorum - Business PowerPoint template with customizable infographics you can quickly and without a headache make your presentation clean and modern at the same time. There is nothing easier than simply entering all the information into pre-designed layouts.
The PowerPoint template contains many different functions that will help you edit the "ready-made design proposals" to your needs and present the information logically, consistently and visually interesting:
800 slides (analysis infographics, visual content, presentations, map, content/storytelling, services slides);
vector icon;
editable charts;
4 aspect ratio (16:9, 16:10, A4, 4:3);
light or dark styles.
2019 Pitch Deck PowerPoint Template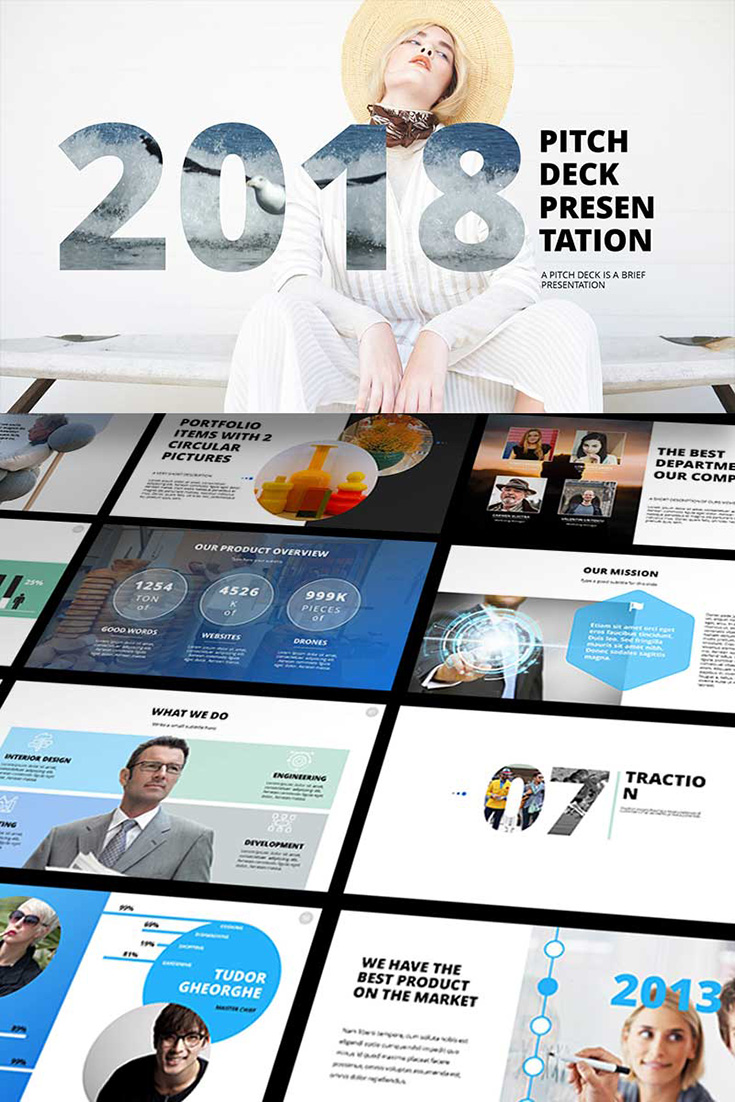 2019 Pitch Deck PowerPoint Template is the most modified for presentations with high visual development for the perfect design of your company's portfolio or information about your products and services.
Here you will find only high-quality styles, slides, infographics, icons, fonts, animations and all other correct design elements that work in concert and as efficiently as possible:
230+ modern slides;
12 extra color theme;
PPTX files;
placeholders images with Drag & Drop etc.
Multipurpose Business Infographic Presentation - PowerPoint Template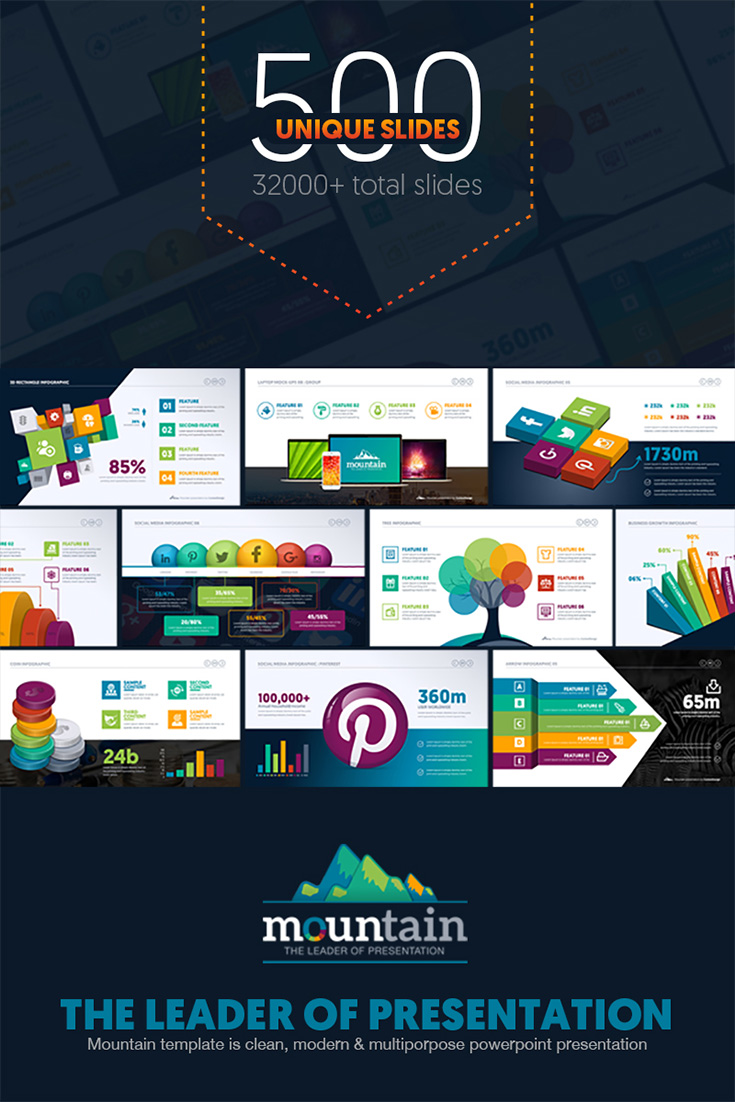 Multipurpose Business Infographic Presentation - PowerPoint Template - a powerful package with 500 unique slides to create a highly professional PowerPoint presentation. Ideal for both business and personal use.
This multipurpose ppt design template has such advantages, namely:
+30 000 total number of all slides;
completely editable;
26 color options;
+4000 Vector EPS Icon;
3 aspect ratio (16:9, A4, 4:3);
all customisable and easy to use;
lifetime updates.
Imperial - Multipurpose PowerPoint Template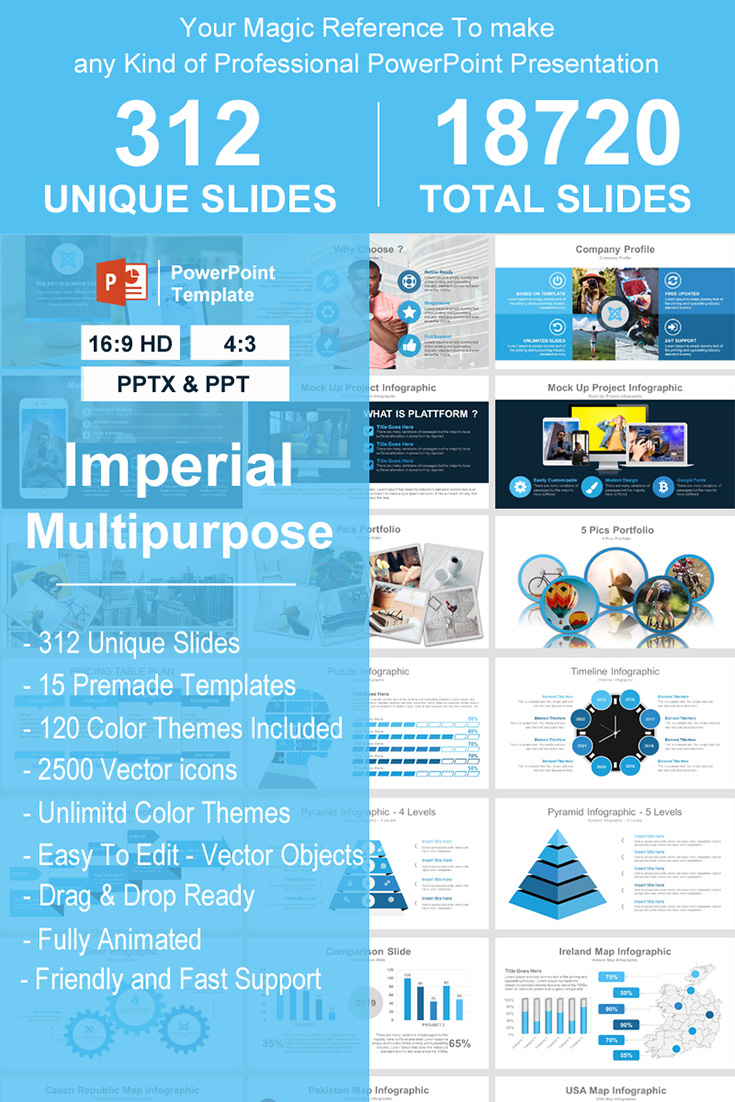 Looking for fresh ideas for modeling presentations in design and photos themes? And here they are: Imperial - Multipurpose PowerPoint Template. Creating presentations has never been so easy. This template is just a bottomless ocean of opportunities for self-expression, presentation of your creative proposals, achievements and other ideas from the field of design.
So what we have are:
+ 18 000 total slides;
312 multipurpose unique slides;
2 aspect ratio (4:3, 16:9);
free fonts and icons;
120 color themes;
infographics (inkl. 3D);
tons of elements, layouts, maps, charts.
Best Pack - PowerPoint Template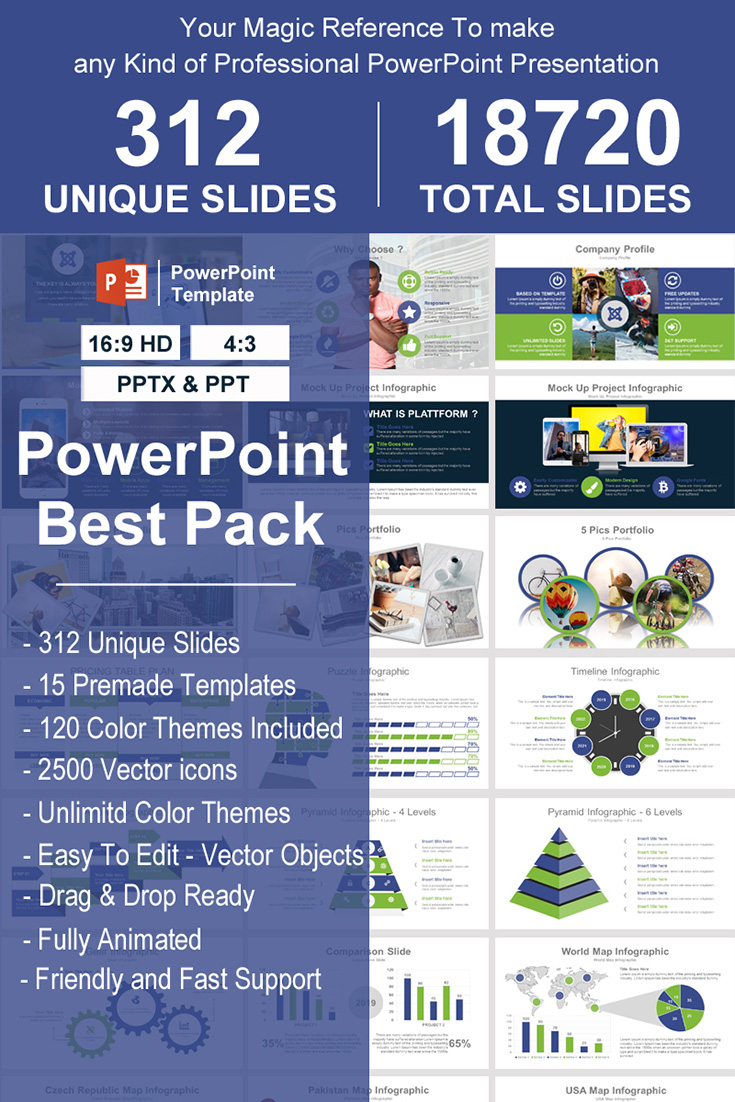 Best Pack - PowerPoint Template - another template that is suitable for creating high-quality and professional presentations for any field of activity (business proposal and plan, startups, sales and annuals reports, management, creative agencies, company's profile etc.)
It has a full arsenal of necessary tools:
312 unique slides and 18720 total slides;
2 aspect ratio (4:3 & 16:9);
120 color options;
fonts and icons gratis;
editable content;
various charts (process, steps, circular, arrow, cycle, strategy, funnels, networking, map, social media diagrams);
fully animated;
3D infographics etc.
Business Plan - PowerPoint Template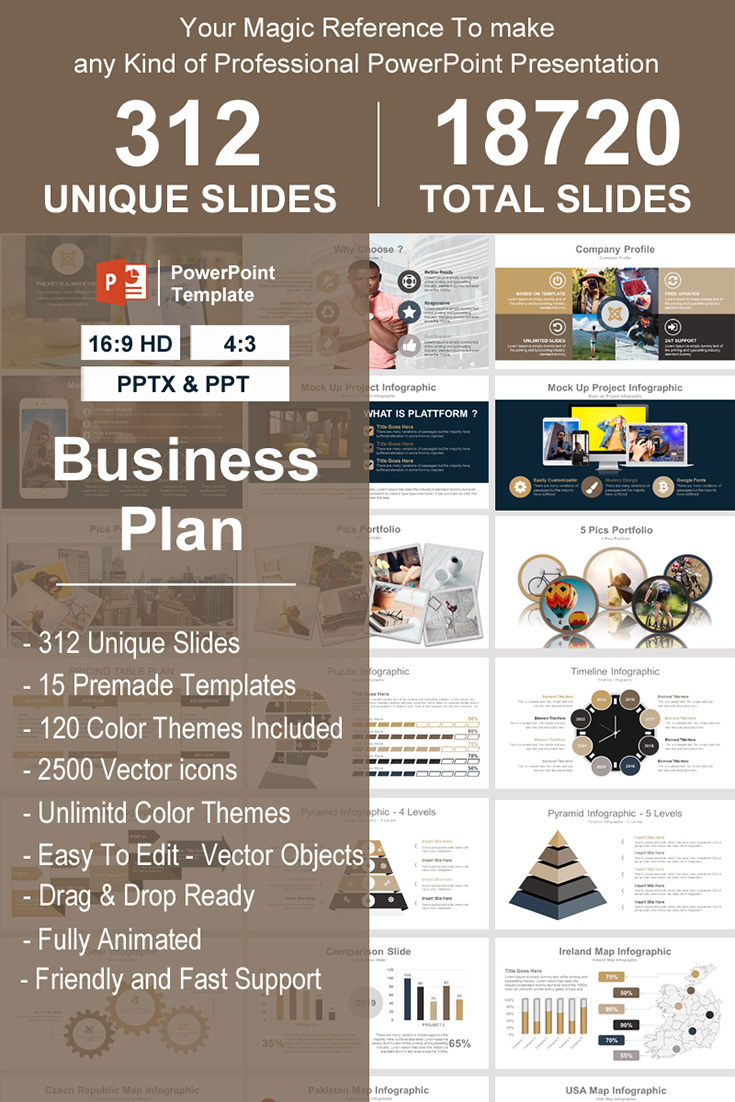 Planning is one of the main and first strategic steps in building any business. Business Plan - PowerPoint Template will help you combine (text + visualization) to create a presentation to highlight the main processes and stages, without missing any details.
The key features of the template are:
over 18,000 slides (300 of which are unique);
15 premade templates;
PPTX File & PPT file;
120 color themes;
free fonts and icons;
fully editable content;
lots of charts, timelines, and infographics;
support and updates.
In addition ppt design template has 312 unique slides carefully designed by professionals. You can easily edit and fill your business data into the slides.
Sarke - Creative PowerPoint Template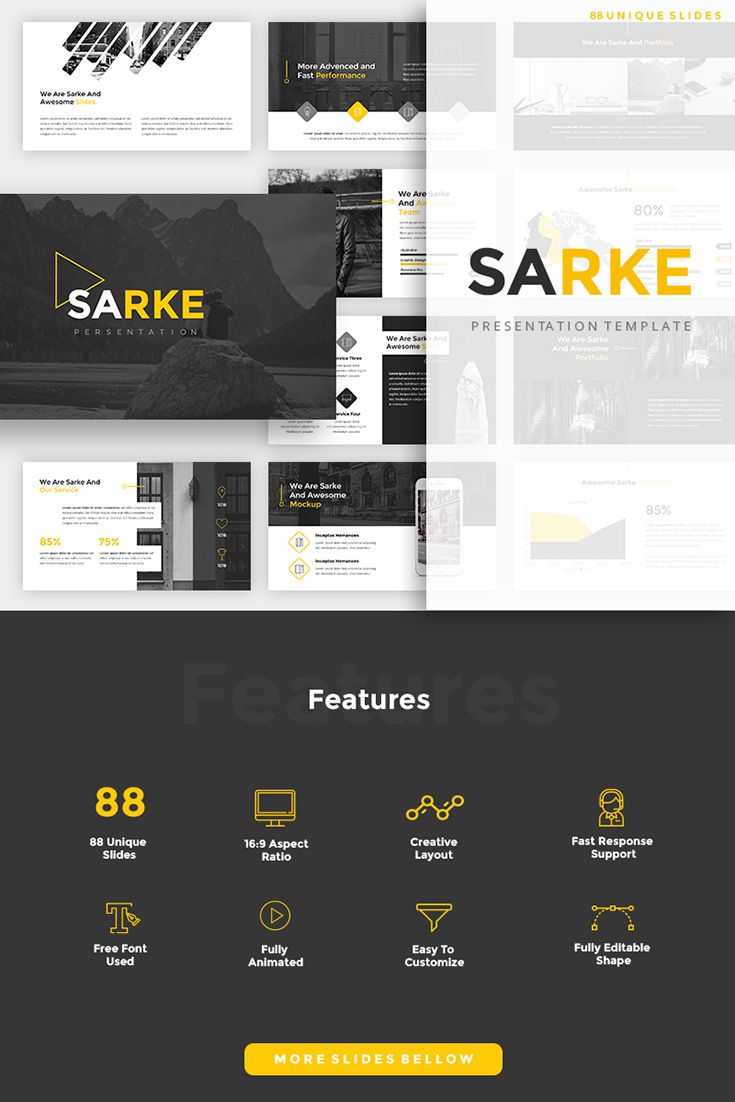 Sarke - Creative PowerPoint Template is a very good option for creating slideshows, ideas, projects, products in any business or creative presentation. It has over 80 unique slides, custom animated slides, different aspect ratio (16:9 & 4:3), Full HD etc. In addition, all material is editable, and color change is possible in just one click. Get this creative template and be in trend!
Using ppt design templates you to achieve maximum effect: you will look amazing in front of the audience, and your report will be memorable.
All of the above templates have a professional design with colorful gradients and all kinds of shapes, which allows you to keep the content simple and at the same time create aт authentic presentation. Choose any to make the presentation of a conference, seminar or any other event unique and impressive!